About Endangered Species Watch
Launched by the Independent Petroleum Association of America (IPAA) in 2014, Endangered Species Watch is focused on equipping IPAA members and Capitol Hill with the facts about the Endangered Species Act (ESA) and the need for straightforward, targeted ESA reform to both protect America's wildlife and grow the United States economy.
The Endangered Species Act (ESA) was signed into law in 1973 to protect animal and plant species at risk of extinction due to habitat changes or loss. It was last renewed by Congress in 1988, meaning it has been more than 25 years since Congress last made any substantial updates to the 1973 ESA law.
Today, with only a two percent recovery rate, the Endangered Species Act is failing to achieve its fundamental purpose of species recovery. Instead, the ESA law has become a legal tool for environmental organizations to halt economic growth and job creation, while diverting millions of American taxpayer dollars away from species recovery.
Over the past few years, there have been numerous efforts in Texas, New Mexico, Colorado, Oklahoma, and elsewhere to list hundreds of species as endangered and place hundreds of thousands of acres of land off-limits to economic development. And a new, stronger wave of threats is expected in the coming years.
Timeline For ESA Listings:
The National Marine Fisheries Service (NMFS) – under the U.S. Department of Commerce – and the U.S. Fish and Wildlife Service (FWS) – under the U.S. Department of the Interior – are the federal agencies that administer ESA protection and grant "endangered" or "threatened" listings to species. The ESA is often subjected to litigious abuse, centered on the process of listing a species, which under the ESA is a complicated and often confusing process. The following steps are involved in the listing process.
NMFS or FWS officials can nominate a species for listing or, as most commonly is the case, a citizen petition is generated by an environmental group or an individual.

Following the receipt of a listing petition, NMFS or FWS has 90 days to assess whether or not federal protection is warranted.

Once the 90-day assessment concludes and if a positive finding is found, the agency has one year to determine whether or not the species will be listed as threatened or endangered.

If a species is awarded protection status, the protection and recovery plans take effect 30 days after a decision is published in the Federal Register.

If a species is not granted protection status, the listing process concludes. However, in most instances that a species is not listed, environmental groups will file a lawsuit against the agency. If a species listing goes into litigation, the ESA decision could take decades for a decision to be reached.

Under the ESA law, the listing of a species should take two years from the date of submission to the agency's final decision.
What's At Stake?
Listing a species under the ESA poses a major challenge to America's energy producers and all businesses throughout a region. Here are some of the areas that have been affected by the ESA: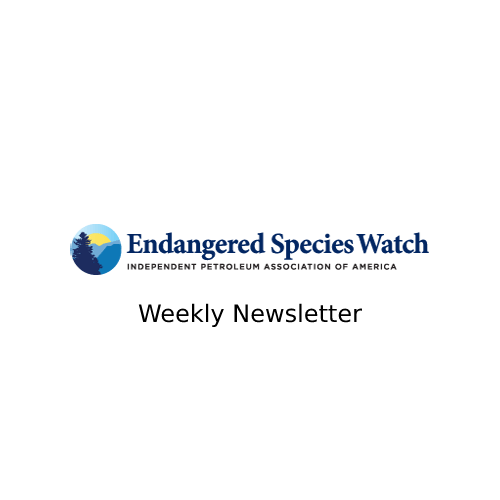 Water

Infrastructure and transportation

Farmland protection

Logging and timber industry

Energy development – oil, natural gas, coal, wind, solar, hydropower, geothermal, etc.
IPAA is a national trade association headquartered in Washington, D.C. that represents thousands of independent U.S. oil and natural gas companies – many small businesses that employ an average of 15 people. IPAA is dedicated to ensuring a strong, viable American oil and natural gas industry, recognizing that an adequate and secure supply of U.S. energy is essential to the national economy and energy security. IPAA works with allies from across the country on endangered species issues and has formed an active coalition to address the rising challenges related to ESA listings.
Learn more about the Endangered Species Act HERE.
Please contact Samantha McDonald at IPAA if you would like to help take action or are interested in receiving ESA updates and alerts from IPAA.